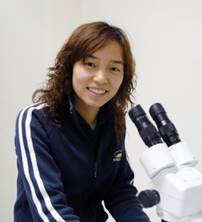 曲良焕博士 副教授 硕士生导师
教育经历
1998-2002河南师范大学生命科学学院
生物技术专业理学学士学位
2002-2007武汉大学生命科学学院
发育生物学专业理学博士学位
科研与学术工作经历
2008-至今华中农业大学生命科学技术学院讲师,副教授
研究方向
作物代谢与发育调控
代表性研究成果
论文
1. Qu LH#, Zhou XM#, Li XB, Li SS, Zhao J, Zhao P, Liu Y, Sun MX*.The autonomous cell fate specification of basal cell lineage: the initial round of cell fate specification occurs at the two-celled proembryo stage.Plant J. 2017;91(6):1051-1063.
2. 张飞,曲良焕,罗杰*.水稻果胶甲基转移酶OsTSD2基因突变体的分析.华中农业大学学报. 2017; 36(3): 25-31.
3. Chen W#, Wang WS#, Peng M#, Gong L, Gao YQ, Wan J, Wang SC, Shi L, Zhou B, Li ZM, Peng XX, Yang CK,Qu LH, Liu XQ, Luo J*. Comparative and parallel genome-wide association studies for metabolic and agronomic traits in cereals.Nat Commun. 2016; 7: 12767.
4. Qu LH, Wu CY, Zhang F, Wu YY, Fang CY, Jin C, Liu XQ, Luo J*. Rice putative methyltransferase geneOsTSD2is required for root development involving pectin modification.J Exp Bot. 2016; 67(18): 5349-5362.
5. Fang CY, Zhang H, Wan J, Wu YY, Li K, Jin C, Chen W, Wang SC, Wang WS, Zhang HW, Zhang P, Zhang F,Qu LH, Liu XQ, Zhou DX, Luo J*. Control of leaf senescence by a MeOH-Jasmonates cascade that is epigenetically regulated by OsSRT1 in rice.Mol Plant. 2016; 9(10):1366-1378.
6. Zhang F#, Zhang P#, Zhang Y, Wang SC,Qu LH, Liu XQ, Luo J*. Identification of a peroxisomal-targeted aldolase involved in chlorophyll biosynthesis and sugar metabolism in rice.Plant Sci. 2016; 250: 205-215.
7. 齐迎春,魏星*,姚家玲,曲良焕,李应祥,冯燕妮.湖北省大学生植物学实验技能竞赛结果分析.实验室研究与探索. 2015; 34(6): 196-199.
8. Cheng XX, Yu M, Zhang N, Zhou ZQ*, Xu QT, Mei FZ, Qu LH. Reactive oxygen species regulate programmed cell death progress of endosperm in winter wheat (Triticum aestivumL.) under waterlogging.Protoplasma. 2016; 253(2): 311-327.
9. Xu QT, Fan HY, Jiang Z, Zhou ZQ*, Yang L, Mei FZ, Qu LH. Cell wall degradation and the dynamic changes of Ca2+ and related enzymes in the developing aerenchyma of wheat (Triticum aestivumL.) under waterlogging.Acta Biol Hung. 2013; 64(3): 328-340.
10. Xu QT, Yang L, Zhou ZQ*, Mei FZ,Qu LH, Zhou GS. Process of aerenchyma formation and reactive oxygen species induced by waterlogging in wheat seminal roots.Planta. 2013; 238(5): 969-982.
11. Qu LH. Low-temperature treatment of tobacco ovaries improves the isolation, viability, and embryogenic potential of two-celled proembryos.In Vitro Cell Dev-PL.2012; 48(4): 390-395.
12. Zhang JE, Luo A, Xin HP, Zhao J, Li SS,Qu LH, Ma LG, Scholten S, Sun MX*. Genes of both parental origins are differentially involved in early embryogenesis of a tobacco interspecies hybrid.PLoS ONE. 2011; 6(8): e23153.
13. Ma LG#, Xin HP#,Qu LH, Zhao J, Yang LB, Zhao P, Sun MX*. Transcription profile analysis reveals that zygotic division results in uneven distribution of specific transcripts in apical/basal cells of tobacco.PLoS ONE.2011;6 (1): e15971.
14. Zhao J#, Xin HP#,Qu LH, Ning J, Peng XB, Yan TT, Ma LG, Li SS, and Sun MX*. Dynamic changes of transcript profiles after fertilization are associated with de novo transcription and maternal elimination in tobacco zygote, and mark the onset of the maternal-to-zygotic transition.Plant J. 2011; 65(1): 131-145.
15. Qu LH, Sun MX*. (2008).The nucleus as a chief cellular organizer and active defender in response to mechanical stimulation.Plant Signal Behav.2008; 3(9): 678-680.
16. Qu LH, Sun MX*.Cytoplasmic compartmental response to local mechanical stimulation of internal tissue cells.Protoplasma.2008; 233(1-2): 51-59.
授权专利
其他成果
获得奖励
2017年指导本科生参加华中农业大学第五届大学生植物学实验技能竞赛获二等奖
2016年指导本科生参加湖北省第四届高等学校大学生生物实验技能竞赛获单项赛二等奖
2016年获华中农业大学教学成果二等奖(排序第二)
2013年获华中农业大学第十一届青年教师讲课竞赛二等奖
2011年获华中农业大学第十届青年教师讲课竞赛优胜奖
2010,2011,2013年获华中农业大学教学质量三等奖
2009年获华中农业大学优秀班主任称号
主讲课程
植物生物学、植物学、植物生物学实验、植物学实验等
研究生招生专业
联系方式
实验室电话:027-87280113
电子邮箱:qlhnyth@mail.hzau.edu.cn
办公地点:作物遗传改良国家重点实验室(第二综合楼)A201
实验室介绍及网址: