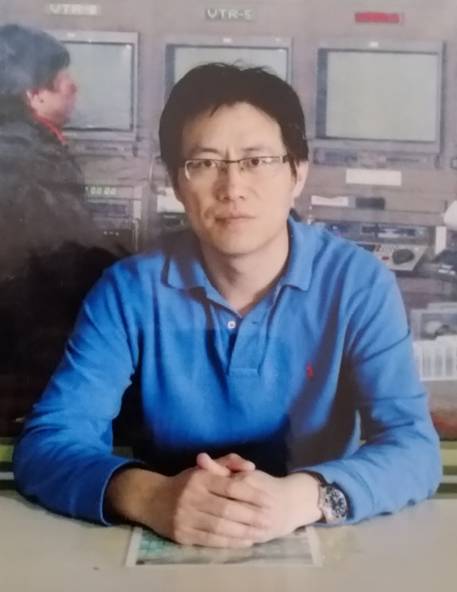 薛绍武  博士  研究员 博士生导师
教育经历
1992-1996 山西大学 化学系 化学专业 理学学士学位
1999-2005 山西大学 分子科学研究所 无机化学专业 理学硕士、博士学位
科研与学术工作经历
2013-至今 华中农业大学生命科学技术学院 研究员
2007-2010 美国加州大学圣地亚哥分校 生物科学学部 博士后
2005-2007 首都师范大学 生命科学学院 博士后
2002-2013 山西大学 分子科学研究所 讲师、副教授
研究方向
以植物拟南芥气孔保卫细胞为模型,研究激素脱落酸、钙、二氧化碳、一氧化氮、硫化氢等分子的细胞信号传导机制;分析鉴定植物转运体、离子通道的功能;植物体重金属吸收转运机制。
(1) Wang L, Wan R, Shi Y, Xue S*. Hydrogen sulfide activates S-type anion channel via OST1 and Ca2+ modules. Molecular Plant 9, 489–491, 2016. (*Corresponding Author )
(2) Xia J#, Kong D#, Xue S#, Tian W, Li N, Bao F, Hu Y, Du J, Wang Y, Pan X, Wang L, Zhang X, Niu G, Feng X, Li L, He Y. Nitric oxide negatively regulates AKT1-mediated potassium uptake through modulating vitamin B6 homeostasis in Arabidopsis. Proc Natl Acad Sci U S A, 111(45), 16196–16201, 2014. ( #共同第一作者)
(3) Xue S#, Hu H#, Ries A, Merilo E, Kollist H, Schroeder JI*. Central functions of bicarbonate in S-type anion channel activation and OST1 protein kinase in CO2 signal transduction in guard cells. The EMBO Journal, 30(8), 1645–1658, 2011. Evaluated by Faculty1000.
(4) Xue S, Yao X, Luo W, Jha D, Tester M, Horie T, Schroeder JI*. AtHKT1;1 mediates nernstian sodium channel transport properties in Arabidopsis root stelar cells. PLoS One, 6(9), e24725, 2011.
(5) Jin Z, Xue S, Luo Y, Tian B, Fang H, Li H, Pei Y*. Hydrogen sulfide interacting with abscisic acid in stomatal regulation responses to drought stress in Arabidopsis. Plant Physiology and Biochemistry, 62(1), 41–46, 2013.
(6) Ebe M, Kristiina L, Hu H, Xue S, Liina J, Ingmar T, Miguel GG, Pedro R, Schroeder JI, Brosche M, Kollist H. PYR/RCARL receptors contribute to ozone-, reduced air humidity-, darkness-, and CO2-induced stomatal regulation. Plant Physiology, 162(3): 1652-1668. 2013.
(7) Brandt B, Brodsky DE, Xue S, Negi J, Iba K, Kangasjärvi J, Ghassemian M, Stephan A, Hu H, Schroeder JI*. CPK6 Activation, Branched ABI1 Down-regulation Mechanism, and Reconstitution of ABA Activation of SLAC1 Channel by CPK6 and OST1 Kinases. Proc Natl Acad Sci U S A, 109(26), 10593–10598, 2012.
(8) Kim TH, Hauser F, Ha F, Xue S, Bohmer M, Nishimura N, Munemasa S, Hubbard K, Peine N, Lee L, Lee S, Robert N, Parker JE, Schroeder JI*. Chemical genetics reveals negative regulation of abscisic acid signaling by a plant immune response pathway. Current Biology, 21(11), 990–997, 2011.
(9) Hu H, Boisson A, Israelsson M, Böhmer M, Xue S, Ries A, Godoski J, Kuhn JM, Schroeder JI*. Carbonic anhydrases are upstream regulators of CO2-controlled stomatal movements in guard cells. Nature Cell Biology, 12(1), 87-93, 2010. (Cover story)
(10) Yao X, Horie T, Xue S, Leung HY, Katsuhara M, Brodsky DE, Wu Y, Schroeder JI*. Differential sodium and potassium transport selectivities of the rice OsHKT2;1 and OsHKT2;2 transporters in plant cells. Plant Physiology, 152, 341–355, 2010.
(11) Siegel RS, Xue S, Murata Y, Yang Y, Nishimura N, Wang A, Schroeder JI*. Calcium elevation-dependent and attenuated resting calcium-dependent abscisic acid induction of stomatal closure and abscisic acid-induced enhancement of calcium sensitivities of S-type anion and inward-rectifying K+ channels in Arabidopsis guard cells. The Plant Journal, 59, 207-220, 2009.
获得奖励
2014年入选楚天学者计划楚天学子。
主讲课程
植物学基础
研究生招生专业
细胞生物学;生物化学与分子生物学
联系方式
办公电话:027-87288970
电子邮箱:xues@mail.hzau.edu.cn
办公地点:第一综合楼A623