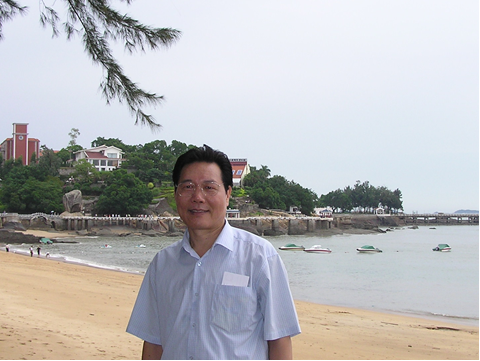 刘子铎  博士  教授  博士生导师 兼国家微生物农药工程中心副主任;湖北省生物工程学会副理事长。
教育经历
1975年-1978年,武汉大学生物系生化专业毕业,学士学位,
1979年-1980年,中科院上海细胞生物学研究所,进修生,
1985年-1988年,武汉大学生物系生化专业毕业,硕士学位,
1995年-1999年,华中农业大学生科院,博士学位,
2001年-2005年,新加坡Institute of Molecular and the Cell Biology,博士后,
科研与学术工作经历
1978年-1983年,武汉大学生物系生化专业,助教
1984年-1991年,武汉大学生物系生化专业,讲师
1991年-1993年,华中农业大学生科院生物技术系,讲师
1993年-1998年,华中农业大学生科院生物技术系,副教授
1999年-今,华中农业大学生科院,教授
1995年-1996年,以色列Ben-Gurion大学,访问学者
1999年7-9月,美国Scranton University ,访问学者;
1999年-2000年,新加坡Institute of Molecular Agrobiology,Visiting Scientist
2001年-2005年,新加坡 Institute of Molecular and the Cell Biology , Research Fellow
研究方向
酶工程及酶分子体外改良;畜禽粪便、餐厨垃圾、发酵残渣的生物转化及昆虫蛋白的生产。
代表性研究成果
论文
1.Lin Chen1, Huang Jiang1, Qipeng Cheng1, Junpeng Chen1, Gaobing Wu2, Ashok Kumar1,Ming Sun1 & Ziduo Liu*,Enhanced nematicidal potential of the chitinase pachi from Pseudomonas aeruginosa in association with Cry21Aa.Scientific Reports (2015) 5:14395 | DOi: 10.1038/srep14395
2. Lin Chen, Junpeng Chen, Ashok Kumar, Ziduo Liu*,Effects of domains modification on the catalytic potential of chitinase from Pseudomonas aeruginosa.International Journal of Biological Macromolecules (2015), 78:266-272
3.Qipeng Cheng, Fangyan Xu, Nan Hu, Xiaoshuang Liu, Ziduo Liu* A novel Ca2+-dependent alkaline serine-protease (Bvsp) from Bacillus sp. with high fibrinolytic activity. Journal of Molecular Catalysis B: Enzymatic 117 (2015) 69–74
4. Junjie Huang,Lin Chen,Nan Hu,Wei Jiang,Gaobing Wu,Ziduo Liu* Characterization of a novel serine hydroxymethyltransferase isolated from marine bacterium Arthrobacter sp. and its application on L-serine production.Ann Microbiol.(2015) 65:1689–1698
5. Gaobing Wu, Xiangnan Zhang , Lu Wei, Guojie Wu, Ashok Kumar, Tao Mao, Ziduo Liu*,A cold-adapted, solvent and salt tolerant esterase from marine bacterium Psychrobacter pacificensis.International Journal of Biological Macromolecules 81 (2015) 180–187
6. Sen Yang, Jiufeng Xie, Nan Hu, Yixiong Liu, Jiner Zhang, Xiaobin Ye, Ziduo Liu*, Bioconversion of Gibberellin Fermentation Residue into Feed Supplement and Organic Fertilizer Employing Housefly (Muscadomestica L.) Assisted by Corynebacterium variabile.PLoS ONE (2015) 10(5): e0110809. doi:10.1371/journal.pone.0110809
7. Pei Yao, Yongjun Lin, Gaobing Wu, Yulin Lu, Tao Zhan, Ashok Kumar, Lili Zhang ,∗Ziduo Liu*,Improvement of glycine oxidase by DNA shuffling, and site-saturation mutagenesis of F247 residue.International Journal of Biological Macromolecules 79 (2015) 965–970
8. Shu-yuan Yi, Gao-bing Wu, Yong-jun Lin, Nan Hu, Ziduo Liu*, Characterization of a new type of glyphosate-tolerant 5-enolpyruvyl shikimate-3-phosphate synthase from Isoptericola variabilis.Journal of Molecular Catalysis B: Enzymatic 111 (2015) 1–8
9. Ashok Kumar, Shaowei Zhang, Gaobin Gao, Chengchao Wu, Junpeng Chen,R.Baskaran, Ziduo Liu* Cellulose binding domain assisted immobilization of lipase (GSlip=CBD) onto cellulosic nanogel: characterization and application in organic medium.Colloids and surfaces B:Biointerfaces 136(2015)1042-1050
10. Sen Yang, Ziduo Liu*, Pilot-scale biodegradation of swine manure via Chrysomya megacephala (Fabricius) for biodiesel production. Applied Energy (2014) 11:3385–391
11. Sen Yang, Qing Li, Yang Gao, Longyu Zheng, Ziduo Liu*, Biodiesel production from swine  manure via housefly larvae (Musca domestica L.). Renewable Energy (2014) 66:222-227
12. Zongqing Huang, Xiaoshuang Liu, Shaowei Zhang, Ziduo Liu*, GH52 xylosidase from Geobacillus stearothermophilus: characterization and introduction of xylanase activity by site_directed mutagenesis of Tyr509.J Ind Microbiol Biotechnol (2014) 41:65–74
13. Shanshan Zhang, Guojie Wu, Zhixiang Liu, Zongze Shao, ZiduoLiu* , Characterization of EstB, a novel cold-active and organic solvent-tolerant esterase from marine microorganism Alcanivorax dieselolei B-5(T).Extremophiles (2014) 18:251–259
14. Yongjun Qin, Zongqing Huang, Ziduo Liu*, A novel cold-active and salt-tolerant a-amylase from marine bacterium Zunongwangia profunda:molecular cloning, heterologous expression and biochemical characterization. Extremophiles (2014) 18:271–281
15. Xiaoshuang Liu, Zongqing Huang, Xiangnan Zhang, Zongze Shao, Ziduo Liu*, Cloning, expression and characterization of a novel cold-active and halophilic xylanase from
Zunongwangia profunda. Extremophiles (2014) 18:441–450
16. Haibo Xu, Yongjun Qin, Zongqing Huang, Ziduo Liu*,Characterization and site-directed mutagenesis of an α-galactosidasefrom the deep-sea bacterium Bacillus megaterium. Enzyme and Microbial Technology (2014) 56:46–52
17. Zongqing Huang , Xiaoshuang Liu , Shaowei Zhang ,Ziduo Liu*,GH52 xylosidase from   Geobacillus stearothermophilus: characterization and introduction of xylanase activity by site‑directed mutagenesis of Tyr509. J Ind Microbiol Biotechno (2014) 41:65–74
18. Gaobing Wu, Mingru Yuan, Lu Wei, Yi Zhang, Yongjun Lin, Lili Zhang , Ziduo Liu*, Characterization of a novel cold-adapted phosphinothricin N-acetyltransferase from the marine bacterium Rhodococcus sp.strain YM12. Journal of Molecular Catalysis B: Enzymatic (2014) 104:23–28
19. Gaobing Wu, Yongjun Qinb, Qipeng Cheng, Ziduo Liu*, Characterization of a novel alkali-stable and salt-tolerant  -amylase from marine bacterium Zunongwangia profunda. J MOL CATAL B-ENZYM (2014) 110:8–15
20. Shanshan Zhang, Gaobing Wu, Shiyu Feng, Ziduo Liu* Improved thermostability of esterase from Aspergillus fumigatus by site-directed mut. Enzyme and Microbial Technology .(2014) 65: 11–16
21. Yi Zhang, Licong Yi, Yongjun Lin, Lili Zhang, Zongze Shao , ZiduoLiu*Characterization and site-directed mutagenesis of a novel class II5-enopyruvylshikimate-3-phosphate (EPSP) synthase from the deep-sea bacterium Alcanivorax sp. L27. Enzyme and Microbial Technology Enzyme and Microbial Technology(2014) 63 : 1
22. Shaohui Yuan, Wei Jiang, Yiming Guoa, Ziduo Liu*, A novel serine hydroxym- ethyltransferase from marine bacterium Alcanivorax sp. and its application on enzymatic synthesis of L-serine Journal of Molecular Catalysis B: Enzymatic (2014) 109: 17–23
23.Yan Wang, Shiyu Feng, Tao Zhan, Zongqing Huang, Guojie Wu, Ziduo Liu*, Improving catalytic efficiency of endo-β-1, 4-xylanase from Geobacillus 7. stearothermophilus by directed evolution and H179saturation mutagenesis. Journal of Biotechnology (2013) 168 :341– 347
24. Jing Wang, Qingye Zhang, Zongqing Huang, Ziduo Liu*, Directed evolution of a family 26 glycoside hydrolase: Endo-β-1,4-mannanase from Pantoea agglomerans A021.Journal of Biotechnology (2013) 16:7350– 356
25. Guojie Wu, Shuo Zhang, Houjin Zhang, Shanshan Zhang, Ziduo Liu*,A novel esterase from a psychrotrophic bacterium Psychrobacter celer3Pb1 showed cold-adaptation and salt-tolerance. Journal of Molecular Catalysis B: Enzymatic (2013)98: 119– 126
26. Guojie Wu, Gaobing Wu, Tao Zhan, Zongze Shao, Ziduo Liu*,Characterization of a cold-adapted and salt-tolerant esterase from a psychrotrophic bacterium Psychrobacter pacificensis.Extremophiles (2013) 17:809–819
27. Wei Jiang, Bingzhao Xia, Ziduo Liu*, A serine hydroxymethyltransferase from marine bacterium Shewanella algae:Isolation, purification, characterization and l-serine production. Microbiological Research (2013)168: 477– 484
28. Wei Jiang, Bingzhao Xia, Junjie Huang, Ziduo Liu*, Characterization of a serine hydroxymethyltransferase for L-serine enzymatic production from Pseudomonas plecoglossicida. World J Microbiol Biotechnol. (2013) 29:67-2076
29. Tao Zhan, Kai Zhang, Yangyan Chen, Yongjun Lin, Gaobing Wu, Lili Zhang, Pei Yao, Zongze Shao, Ziduo Liu*,Improving Glyphosate Oxidation Activity of Glycine Oxidase from Bacillus cereus by Directed Evolution. PLoS One.( 2013 ) 8( 11) e79175
30. Yang S, Li Q, Zeng Q, Zhang J, Yu Z, Liu Z*,Conversion of Solid Organic Wastes into Oil via Boettcherisca peregrine (Diptera: Sarcophagidae) Larvae and Optimization of Parameters for Biodiesel Production. PLoS One.( 2012)7(9):e45940. doi: 10.1371
31. Huang W, Lin Y, Yi S, Liu P, Shen J, Shao Z, Liu Z*. QsdH, a Novel AHL Lactonase in the RND-Type Inner Membrane of Marine Pseudoalteromonas byunsanensis Strain 1A01261. PLoS One. (2012)7(10):e46587. doi: 10.1371
32. Dong F, Shi R, Zhang S, Zhan T, Wu G, Shen J, Liu Z*, Fusing the vegetative insecticidal protein Vip3Aa7 and the N terminus of Cry9Ca improves toxicity against Plutella xylostella larvae. Appl Microbiol Biotechnol. ( 2012)96(4):921-9.
33. Liu P, Gao Y, Huang W, Shao Z, Shi J, Liu Z*. A novel bioassay for high-throughput screening microorganisms with N-acyl homoserine lactone degrading activity, Appl Biochem Biotechnol. ( 2012)167(1):73-80.
34. Wu G, Feng C, Cao S, Guo A, Liu Z*. Identification of New Dominant-Negative Mutants of Anthrax Protective Antigen Using Directed Evolution, Appl Biochem Biotechnol, ( 2012) 168:1302–1310.
35. Dong F, Zhang S, Shi R, Yi S, Xu F, Liu Z*,Ser-Substituted Mutations of Cys Residues in Bacillus thuringiensis Vip3Aa7 Exert a Negative Effect on its Insecticidal Activity, Curr Microbiol. (2012)65(5):583-8.
36. Huang X, Zhao Y, Dai Y, Wu G, Shao Z, Zeng Q, Liu Z*. Cloning and biochemical characterization of a glucosidase from a marine bacterium Aeromonas sp. HC11e-3,World J Microbiol Biotechnol. ( 2012) 28(12):3337-44.
授权专利
1. 刘子铎 赵艳 林拥军 邵宗泽 5'-烯醇丙酮酸莽草酸-3-磷酸合酶基因的分离 国家发明专利 专利号Zl201210006891.2
2. 刘子铎 詹滔 林拥军 吴高兵 张利莉 降解除草剂草甘膦的抗性基因及其编码蛋白 国家发明专利 专利号ZL2013103204129 
3. 刘子铎 张今儿 杨森 刘义雄 吴高兵 叶晓斌 周少丰 用蝇蛆处理赤霉素残渣生产昆虫蛋白和有机肥的方法 国家发明专利 专利号ZL201410145406.9
4. 刘子铎 易沭远 林拥军 张利莉 吴高宾 一种分离的5-烯醇丙酮莽草酸-3-磷酸合酶基因国家发明专利 申请号 201410108595.2
5. 刘子铎 吴高兵 洪玉枝 郭爱珍 封纯芳 曹莎 一种炭疽芽孢杆菌保护性抗原突变体 国家发明专利 申请号 ZL20081023696.7
6. 刘子铎 吴高兵 洪玉枝 郭爱珍 曹莎 封纯芳 一种使用于炭疽毒素和疫苗的融合蛋白 国家发明专利 申请号 ZL200910272783.8
7. 刘子铎 张炼辉 洪玉枝 喻子牛 一种AT选择性高频诱变的方法 国家发明专利 申请号 ZL200610018256.0
8. 刘子铎 李婵娟 洪玉枝 邵宗泽 一种耐碱、高活性的碱性木聚糖酶及编码基因 国家发明专利 申请号 ZL200810197564.3
9. 刘子铎 黄小罗 洪玉枝 邵宗泽 一种耐盐的内切纤维素酶及编码基因 国家发明专利 申请号 ZL200810197797.3
主讲课程
基因操作原理
研究生招生专业
生物化学,微生物学
联系方式
实验室电话:15927372165电子邮箱:lzd@mail.hzau.edu.cn
办公地点:第一综合楼523