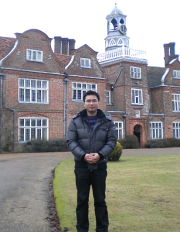 彭东海,博士,副教授,硕士生导师
教育经历(从大学本科开始)
2000-2004 华中农业大学 生命科学技术学院生物技术专业 理学学士学位
2004-2009 华中农业大学 生命科学技术学院微生物学专业 理学博士学位
科研与学术工作经历
2013/01—至今, 华中农业大学,生命科学与技术学院,副教授
2009/12—2010/02,英国苏赛克斯大学,访问学者
2009/07—2012/12,华中农业大学,生命科学与技术学院,讲师
研究方向
1. 基于苏云金芽胞杆菌的微生物农药基础研究和新产品开发;
2. 基于噬菌体的微生物杀菌剂基础研究和新产品开发。
主持科研项目情况:
1. 国家自然科学基金青年项目,31000020、苏云金芽胞杆菌溶源性噬菌体裂解关键控制因子、2011/01-2013/12、19万元、已结题、主持。
2. 国家自然科学基金面上项目,31370002、苏云金芽胞杆菌控制溶源性噬菌体关键因子的功能和作用模式、2014/01-2017/12、80万元、在研、主持。
3. 国家973项目,2013CB1275,细菌侵染线虫的分子机制,2013/01-2017/12,120.0万元,在研,子课题主持。
4. 横向课题,珠海冬种蔬菜软腐病和黄曲条跳甲生物防治的技术研究和应用示范,2014/01-2015/12,5.0万元,已结题,主持。
5. 校自主科技创新项目,2662016py067,苏云金芽胞杆菌与其噬菌体的相互作用,2016/01-2019/01,18万元,在研,主持。
代表性研究成果
1. 1.Geng C#, Nie XT#, Tang ZC, Zhang YY, Lin J, Sun M, Peng DH*. (2016) A novel serine protease, Sep1, from Bacillus firmus DS-1 has nematicidal activity and degrades multiple intestinal-associated nematode proteins. Sci Rep, 6:25012.
2. 2.Peng DH, Lin J, Hang Q, Zheng W, Liu GQ, Zheng JS, Zhu L, Sun M*. (2016) A novel metalloproteinase virulence factor is involved in B. thuringiensis pathogenesis in nematodes and insects. Environ Microbiol, 18(3):846-862.
3. 3.Zhang FJ, Peng DH, Cheng CS, Zhou W, Ju SY, Wan DF, Yu ZQ, Shi JW, Deng Y, Wang F, Ye XB, Hu ZF, Lin J, Ruan LF, Sun M*. (2016) Bacillus thuringiensis Crystal Protein Cry6Aa Triggers Caenorhabditis elegans Necrosis Pathway Mediated by Aspartic Protease (ASP-1). PLoS Pathog. 12(1): e1005389.
4. 4.Zheng JS, Peng DH, Chen L, Liu HL, Chen F, Xu MC, Ju SY, Ruan LF, Sun M*. (2016) The Ditylenchus destructor genome provides new insights into the evolution of plant parasitic nematodes. Proc Biol Sci. 286(1835).
5. 5.Peng DH, Pang CY, Wu H, Huang Q, Zheng JS, Sun M*. (2015) The expression and crystallization of Cry65Aa C-termini, revealing a novel evolutionary strategy of Bacillus thuringiensis Cry proteins. Sci Rep, 5: 8291.
6. 6.Ruan LF, Crickmore N, Peng DH, Sun M. (2015) Are nematodes a missing link in the confounded ecology of the entomopathogen Bacillus thuringiensis? Trends Microbiol. 23(6):341-346.
7. 7.Zhang FJ#, Peng DH#, Ye XB, Yu ZQ, Hu ZF, Ruan LF, Sun M*. (2012) In vitro uptake of 140 kDa Bacillus thuringiensis nematicidal crystal proteins by the second stage juvenile of Meloidogyne hapla. PLoS One, 7: e38534.
8. 8.Peng DH, Wang FS, Li NS, Zhang ZY, Song R. Zhu ZM, Ruan LF, Sun M*. (2011) Single cysteine substitution in Bacillus thuringiensis Cry7Ba1 improves the crystal solubility and produces toxicity to Plutella xylostella larvae. Environ Microbiol, 13:2820-2831.
9. 9.Peng DH, Qiu DW, Ruan LF, Zhou CF, Sun M*. (2011) Protein elicitor PemG1 from Magnaporthe grisea induces SAR in plants through the salicylic acid and Ca-related signaling pathways. Mol Plant Microbe Interact, 24:1239-1246.
10.10.Peng DH, Chai LJ, Wang FS, Zhang FJ, Ruan LF, Sun M*. (2011) Synergistic activity between Bacillus thuringiensis Cry6Aa and Cry55Aa toxins against Meloidogyne incognita. Microb Biotechnol, 4(6):794-798.
11.11.Zhong CY#, Peng DH#, Ye WX, Chai LJ, Qi JL, Yu ZN, Ruan LF, Sun M*. (2011) Determination of plasmid copy number reveals the total plasmid DNA amount is greater than the chromosome DNA amount in Bacillus thuringiensis YBT-1520. PLoS One, 6: e16025.
12.12.Zhou Z#, Peng DH#, Zheng J, Guo G, Tian L, Yu Z, Sun M. (2011) Two groups of S-layer proteins, SLP1s and SLP2s, in Bacillus thuringiensis co-exist in the S-layer and in parasporal inclusions. BMB Rep. 44(5):323-328.
13.13.Peng DH#, Xu XH#, Ye WX, Yu ZN, Sun M*. (2010) Helicoverpa armigera cadherin fragment enhances Cry1Acinsecticidal activity by facilitating toxin-oligomer formation. Appl Microbiol Biotechnol, 85:1033-1040.
14.14.Peng DH, Xu XH, Ruan LF, Yu ZN, Sun M*. (2010) Enhancing Cry1Actoxicity by expression of the Helicoverpa armigera cadherin fragment in Bacillus thuringiensis. Res Microbiol, 161:383-389.
15.15.Peng DH, Luo Y, Guo SX, Zeng H, Ju SY, Yu ZN, Sun M*. (2009) Elaboration of an electroporation protocol for larger plasmids and wild-type strains in Bacillus thuringiensis. J Appl Microbiol, 106:1849-1858.
16.16.Peng DH, Zhou CF, Chen SW, Ruan LF, Yu ZN, Sun M*. (2008) Toxicological safety assessment of genetically modified Bacillus thuringiensis with additional N-Acyl homoserine lactonase gene. Environ Toxicol Chem, 27: 173-180.
17.17.Peng DH, Chen SW, Ruan LF, Li L, Yu ZN, Sun M*. (2007) Safety assessment of transgenic Bacillus thuringiensis with VIP insecticidal protein gene by feeding studies. Food Chem Toxicol, 45, 1179-1185.
论文清单见NCBI网站: http://www.ncbi.nlm.nih.gov/pubmed/?term=Peng+D%2C+Sun+M
获得奖励
2015年指导IGEM团队获得国际遗传工程机器设计大赛金奖;
2015年荣获华中农业大学2015年"学科竞赛优秀指导教师";
2014、2016年获华中农业大学教学质量优秀三等奖;
2011、2015年被评选为湖北省优秀学士学位论文指导教师。
主讲课程
基因操作原理
研究生招生专业
微生物农药,噬菌体
联系方式
实验室电话:027-87283455
电子邮箱:donghaipeng@mail.hzau.edu.cn
办公地点:农业微生物学国家重点实验室A609
实验室介绍及网址:
芽胞杆菌分子生物学(BMB)实验室
http://bmb.hzau.edu.cn/