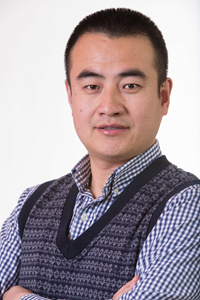 李兴旺 博士 教授 博士生导师
教育经历
1999.9-2003.7 内蒙古农业大学 生物工程学院 生物技术专业 理学学士学位
2003.9-2011.3 华中农业大学 生命科学技术学院 生物化学与分子生物学专业 理学博士学位
科研与学术工作经历
2016.8-现在 华中农业大学 生命科学与技术学院 作物遗传与改良国家重点实验室 教授
2013.4-2016.7 The Jackson Laboratory for Genomic Medicine 博士后
2011.4-2013.3华中农业大学 作物遗传与改良国家重点实验室 Research Associate
研究方向
真核生物的线性基因组在细胞核内组织成一定的三维空间结构,在基因转录调控和个体发育中发挥重要作用。我们课题组围绕水稻杂种优势形成和昼夜节律过程中的基因组三维结构参与基因转录调控的机制这一基本科学问题,利用基因组学、表观遗传学、生物信息学、分子遗传学和生物化学等多种研究手段,研究水稻基因组中线性距离较远的各种DNA顺式调控元件(如启动子、增强子和绝缘子等)或基因之间的远程相互作用;揭示参与顺式调控元件三维互作的蛋白质复合体及非编码RNA的组成及功能。从三维基因组组角度理解基因的转录调控及其控制水稻重要农艺形状的分子机理。课题组的远期目标是运用CRISPR及其多种衍生技术,人工改造水稻的表观遗传修饰和顺式调控元件的远程相互作用,创造高产水稻品种。
本课题组将培养同时具备多种实验设计和操作技能及高通量组学数据处理和分析能力的新一代科学家。欢迎对课题组研究方向感兴趣的研究生、博士后和科研助理加入。
代表性研究成果
论文
1. Xingwang Li*, Oscar Luo*, Ping Wang, Meizhen Zheng, Danjuan Wang, Emaly Piecuch, Jacqueline Jufen Zhu, Simon Tian, Zhonghui Tang, Guoliang Li, Yijun Ruan. (2017) Long-read ChIA-PET for base-pair resolution mapping of haplotype-specific chromatin interactions. Nature Protocol. 12: 899–915.(*Co-first author)
2. Zhonghui Tang*, Oscar Luo*, Xingwang Li*, Meizhen Zheng, Jacqueline Jufen Zhu, Przemyslaw Szalaj, Pawel Trzaskoma, Adriana Magalska, Jakub Wlodarczyk, Blazej Ruszczycki, Paul Michalski, Emaly Piecuch, Ping Wang, Danjuan Wang, Simon Zhongyuan Tian, Xiaoan Ruan, May Penrad-Mobayed, Laurent M. Sachs, Chia-Lin Wei, Edison T. Liu, Grzegorz M. Wilczynski, Dariusz Plewczynski, Guoliang Li, Yijun Ruan. (2015) CTCF-mediated 3D genome architecture reveals a chromatin topology for transcription regulation. Cell. 163: 1611–1627. (*Co-first author)
3. Xingwang Li and Changyin Wu. (2014) Rice Meiotic Chromosome Spread Preparation of Pollen Mother Cells. Bio-protocol 4(14): e1189.
4. Xingwang Li, Yuxiao Chang, Xiaodong Xin, Chunmei Zhu, Xianghua Li, James D Higgins, Changyin Wu. (2013) Replication Protein A2c Coupled with Replication Protein A1c Regulates Crossover Formation during Meiosis in Rice. Plant Cell. 25: 3885–3899.
5. Xingwang Li, Xingqiang Gao, Yi Wei, Li Deng, Yidan Ouyang, Guoxing Chen, Xianghua Li, Qifa Zhang, Changyin Wu. (2011) Rice Apoptosis inhibitor 5 coupling with two DEAD-box ATP-dependent RNA helicases regulates the PCD process of tapetum degeneration. Plant Cell. 23:1416–1434.
6. Laura Vian, Aleksandra Pekowska, Suhas Rao, Kyong-Rim Kieffer-Kwon, Seolkyoung Jung, Laura Baranello, Su-Chen Huang, Laila El Khattabi, Marei Dose, Nathanael Pruett, Adrian Sanborn, Andres Canela, Yaako Maman, Anna Oksanen, Wolfgang Resch, Xingwang Li, Byoungkoo Lee, Alexander Kovalchuk, Zhonghui Tang, Steevenson Nelson, Pierro Di, Cheng Michele, Machol Ryan, Ido St Hilaire, Glenn Brian, Neva Durand, Muhammad Shamim, Elena Stamenova, Jose Onuchic, Yijun Ruan, Andre Nussenzweig, David Levens, Erez Lieberman Aiden, Rafael Casellas. (2018) The Energetics and Physiological Impact of Cohesin Extrusion. Cell.173: 1165–1178.
7. Peng Li, Suman Mitra, Rosanne Spolski, Jangsuk Oh, Wei Liao, Zhonghui Tang, Fei Mo, Xingwang Li, Erin West, Daniel Gromer, Jian-Xin Lin, Chengyu Liu, Yijun Ruan, Warren Leonard. (2017) STAT5-mediated chromatin interactions in superenhancers activate IL-2 highly inducible genes: Functional dissection of the Il2ra gene locus. Proc Natl Acad Sci U S A. 114:12111–12119.
8. Isis Ricano-Ponce, Daria Zhernakova, Patrick Deelen, Oscar Luo, Xingwang Li, Aaron Isaacs, Juha Karjalainen, Jennifer Di Tommaso, Zuzanna Agnieszka Borek, Maria Zorro, Javier Gutierrez-Achury, Andre Uitterlinden, Albert Hofman, Joyce van Meurs, Mihai Netea, Iris Jonkers, Sebo Withoff, Cornelia van Duijn, Yang Li, Yijun Ruan, Lude Franke, Cisca Wijmenga, Vinod Kumar. (2016) Refined mapping of autoimmune disease associated genetic variants with gene expression suggests an important role for non-coding RNAs. J Autoimmun. 68:62–74.
9. Przemyslaw Szalaj, Zhonghui Tang, Paul Michalski, Michal Pietal, Oscar Luo, Michal Sadowski, Xingwang Li, Kamen Radew, Yijun Ruan, Dariusz Plewczynski. (2016) An integrated 3-Dimensional Genome Modeling Engine for data-driven simulation of spatial genome organization. Genome Res. 26: 1697–1709.
10.Xinqiang Gao, Zhihui Chen, Jian Zhang, Xingwang Li, Guoxing Chen, Xianghua Li, Changyin Wu. (2012) OsLIS-L1 encoding a lissencephaly type-1-like protein with WD40 repeats is required for plant height and male gametophyte formation in rice. Planta. 353: 713–727.
11.Yuxiao Chang, Liang Gong, Wenya Yuan, Xingwang Li, Guoxing Chen, Xianghua Li, Qifa Zhang, Changyin Wu. (2009) Replication protein A (RPA1a) is required for meiotic and somatic DNA repair but is dispensable for DNA replication and homologous recombination in rice. Plant Physiol. 15: 2162–2173.
12.Wenya Yuan, Xingwang Li, Yuxiao Chang, Ruoyu Wen, Guoxing Chen, Qifa Zhang, Changyin Wu. (2009) Mutation of the rice gene PAIR3 results in lack of bivalent formation in meiosis. Plant J. 59: 303–315.
13.Jian Zhang, Dong Guo, Yuxiao Chang, Changjun You, Xingwang Li, Xiaoxia Dai, Qijun Weng, Guoxing Chen, Qifa Zhang, Changyin Wu. (2007) Non-random distribution of T-DNA insertions at various levels of the genome hierarchy as revealed by analyzing 13804 T-DNA flanking sequences from an enhancer-trap mutant library. Plant J. 49: 947–959.
主讲课程
生信信息学;生命科学导论MOOC
研究生招生专业
基因组学;生物化学与分子生物学
联系方式
实验室电话:
电子邮箱:xingwangli@mail.hzau.edu.cn
办公地点:作物遗传改良国家重点实验室(第二综合楼)B613-1
实验室介绍及网址: